Benjamin Close's CV
Personal Information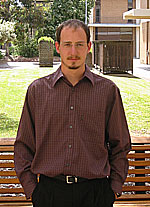 Below is the full contact information for Benjamin Simon Close:
| | |
| --- | --- |
| Name | Benjamin Simon Close |
| Email | Benjamin.Close [at] ClearChain.com |
| Home Page | http://www.clearchain.com/ |
| Address | 677A One Tree Hill Road, Gould Creek, South Australia 5114 |
| Phone | – |
| Mobile | 0417 525 843 (any time) |
Work Experience & Principal Responsibilities
Since 8/2011

Senior Software Engineer/Infrastructure Engineer

at Synrgic Research PTE Ltd.

My role at Synrgic Research is to see the inception of a new product reach maturity. This involves work related to both the hardware and software of the new product.  I've also been involved in setting up the company's infrastructure, including servers, network and shifting hosting providers. Working under Linux, the job provided the ability to increase my management skills of other staff, specifically in an agile programming environment. All this from my desk at home as I work remotely for the Singapore based company.

Synrgic Research, is a newly established sub company of parent company Synrgic

Since 8/2011

Visitor at Wearable Computer Lab, School of Computer and Information Science, University of South Australia

My role in this position is to aid in the continued transition of the lab infrastructure both computing wise and software wise to other members of the Wearable Computer Lab. Having been with the lab for 10 years, vast amounts of knowledge were gained, this knowledge needs to be passed on, sadly there wasn't always the required documentation. Hence I'm helping other members of the lab during this transition period via remote means.

Since 30/01/2007

System Administrator/Programmer at Secure Ehost Pty. Ltd.

Currently working on the migration of live e-commerce shops between servers, my primary responsibilities are to aid in any programming required using php, java and perl, and aid in maintaining both the Linux Server and CPanel hosting server that the company runs. My other duties include supporting the other Secure Ehost staff in there day to day duties.

Working in my spare time from home, my current achievements so far include:

Updating of the companies online commercial store offering to support multiple currency
Migration of companies clients between adhoc setup to cpanel offering
Transparently shifting servers between data centres
Setting up backup contingencies & Remote backups
Reducing the overhead staff require to do their daily job

7/2004 – 7/2011

Research Associate / System Administrator at School of Computer and Information Science, University of South Australia my primary responsibility was to maintain the computing infrastructure for the Wearable Computer Lab as well as perform research in various fields. This included:

Investigating collaboration techniques for horizontal displays. 
Development of a Java Toolkit (TIDL) and application that allows any Swing based Java application to support multiple inputs
Development of a multicursor aware application that utilities the above toolkit to handle the separate inputs
Construction of a development server maintaining CVS, Mail, and multiple website for group development on the Vicat Project
Design and construction of high performance computing cluster for Spatial Augmented Reality
(Details here: http://wearables.unisa.edu.au/uploads/2011/01/SAuniCaseHist-s.pdf) 

I also liaise with the School's system administrators providing:

Regular software maintenance of the Unix Machines
Setting up of new Unix Machines
Backup quality checks
Advice on hardware and procedures
VMWare infrastructure setup support
Diagnostics of networking issues

I am also System Administrator and the 'Goto' person for the Wearable Computer Lab ([http://wearables.unisa.edu.au). Hence I've gained experience in:

Circuit Design / Etching
Microprocessor programming
Hardware building (via CNC mills)
X Windows Debugging
Student Project Supervising

9/2001 – 8/2005
Chief Technical Officer of ClearChainAs CTO and Director of my own business ClearChain, my responsibilities were very varied but included:

Setup and maintainence of the ClearChain servers (DNS,Web,Mail,SSL)
Financial Record keeping
Customer support
General Computing including

Win32 / .Net application creation supporting low level ISDN communication handling
Win32 Performance Counter / Com application creation
Record management system for inventory application creation
Various Website construction
Hardware computer upgrades
Virus / Spyware removal off infected machines

7/2001 – 7/2004
Research Associate / System Administrator at School of Computer and Information Science, University of South AustraliaDuring this period my primary responsibility was programming an Orthodontic related application, based on varying requirements from an industry partner. The application provides the user with a visual representation of predicted orthodontic surgical changes. The application reached its initial prototype goal.

At the same time I worked one day a week as a System Administrator for the School of Computer and information science. My achievements as system administrator include:

Construction of a Unix print server supporting Unix and Windows clients
Migration of multiple aging webservers to a new amalgimated webserver with zero noticable impact to the users
Upgrade of the School's website from adhoc html to CSS, Templates
Setup of a CVS server for students, with NIS authentication
Assisted in setup of a Campus wide Wireless Network
Construction of secondary MX server, and primary DNS for a numerous domains
SMS based alert monitoring system to keep track of the state of the Schools servers

7/2001 – 2/2003
Home Shopping Distributor for HomeCare, Adelaide, AustraliaIn aid of raising money for charity and maintaining fitness, I delivered home shopping catalogues and filled orders placed by customers. My area contained ~1600 houses.
11/2000 – 6/2001
Java Programmer / System Administrator at LISASoft, Adelaide, AustraliaInitially hired as a Java Programmer, within months I was promoted to Senior Project manager on one project looking after 3 staff members. At the same time I was given the reponsibility of System Administrator to maintain the numerous Unix machines running the GIS data used by the company.
3/2000 – 2/2001
Leaflet Distibutor for SALMATStarting as a holiday job I maintained the leaflet delivery job as a means of remaining fit. Delivering multiple leaflets to an area of 400+ houses on a biweekly basis.
2/2000 – 11/2000
Practical Supervisor for the GUI, UI & CIT courses at The University of South AustraliaI was responsible for:

Educating students in the User Interface, Graphical User Interface and Computer & Internet Technology courses
Setting assignments for the Graphical User Interface Course
Setting up and maintaining a submissions system for the UI & GUI courses

11/1997 – 1/1998
Programmer at The Australian Superannunation Group, South Australian BranchMy primary job was to write numerous conversion applications aiding migration of the companies existing data records to the format required by the Australian Taxation Office. During this period, I also performed lots of data entry
Publications
Please see my complete list of publications here
Education
Nov 2000
Bachelor Information Technology (Software Engineering) With HonoursUniversity of South Australia

Lead developer on the Augmented Reality game ARQuake

Dec 1996
High School Graduation Majoring in Mathematics, Chemistry & Physics
Interests
Softball
'FreeDesktop.org (System Administrator)
Gardening (With a huge Vegatable patch)
Electronics (MSP430 programming)
Aim
My aim with any job is to get the work done, quickly, with a fun attitude and do well. The old quote work smarter not harder is a firm motto I like to adopt.
Referees
Ben Nicholas (Ex UniSA)- 0409 678 560

Abigail Davis  (Secure Ehost) – 0409 830 927  

 
Senior Software Engineer/Infrastructure Engineer