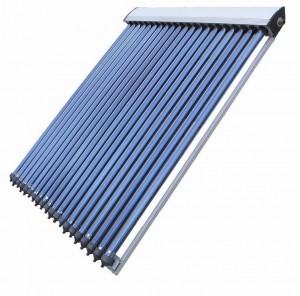 In building our new house we decided to install a solar hot water system. The reasons for this was simple. We have no mains electricity and only LPG bottled gas. Hence continually heating water would have cost us a lot. Solar hot water on the other hand has an upfront cost but substantially reduces the ongoing cost. Only having rain water and being in a frost region, we quickly decided on evacuated tubes rather than flat panel collectors. Not only is it safer for us (no glycol to leak into our water supply) but there is also an added benefit of better solar performance.
With the decision to use evacuated tubes made, it was now a matter of what brand. This is where the real issues began.
In Australia there is two main contenders for evaculated tube hot water system. These are Apricus and Hills. So began the investigation as to which is better. The Apricus system is significantly cheaper than the Hills. The Hills system is a 'name brand quality' company. A little more research finds that both companies are actually Australian (Apricus Australia) and the collectors are all imported anyway.
Not believing in hype about name brands the investigation began into the real differences of each system. It turns out there is quite a few. The below table lists the differences and a comment related to each.
Update: 20091124 – Chris Taylor Director of Apricus Australia has provided updated information to each comment – see below in red
Difference
Hills
Apricus
Comment
Heat Exchanger/Manifold Warranty
10 Year
15 Year
If a company is willing to warrant a component for 5 years more, it is probably of higher quality

Apricus is a global company with its own manufacturing operation.   It exports to more than 30 countries and has offices in the US and Europe. Hills are simply buying OEM from a Chinese company with no direct control over the manufacturing, management, working conditions adherence to labor laws, pollution control or quality control. Apricus is fully a ISO9001:2008 certified operation and audited 3 -4 times a year from 3 party auditors from Australia, Germany, USA and China.  Michael Humphreys, an Australian and the founder and CEO of Apricus is based full time in China managing the manufacturing facility.


Heat Exchanger Weld Joints
64 Welds
6 Welds
Looking at both systems at a local 'home expo' this point is quite clear. Hills weld either side of the heat exchanger, Apricus only weld in a few places. The reason for this is probably due to the manifold setup. In the Apricus system the tube sits between two copper pipes. In the Hills there is weld joints either side of each collector. Personally, I believe less welds are stronger as you've not cut the original pipe in the first place!

The Apricus header was specifically designed in that way to minimise welds which are potential failure points.  The Apricus design is NOT less efficient in terms of heat transfer as we have a large head size which provides plenty of contact surface area.  The heat pipe to header connection is not a bottle-neck to the system efficiency.


Steam Relieve Valve
Supplied
Caleffi 250 series
Not Supplied
The steam relief valve was certainly an interesting point when comparing the differences. Hills use the Caleffi series valves (http://www.caleffi.com/en_IT/Technical_brochures/01133/01133.pdf).
As noted in http://www.ata.org.au/forums/topic/apricus-or-hills-evacuated-tube-solar-hw-system these valves are designed to work with gycol and are not Potable (drinkable) water rated.
The other interesting point is the the maximum temperature rating of the steam valve. Max temp is 180 degrees. Pure water turns to steam at 100 degrees. However it's under pressure in the collector. Hence in order for steam to form it must be hotter than 100 degrees. On a hot day I can understand 180 degrees being met quite easily. This as indicated in the link can melt the steam valve.

1. They are not potable water rated.
2. They will fail due to scale buildup in the fine hole.
3. They will melt as the collector can reach 190oC
4. They will dump as much as 20L per day in steam, a fact that Apricus is raising with Australian Standards as system are not allowed to dump excessive volumes of water as a means of dissipating excess heat as outlined in AS2712:2007 "no-load" clause 7.4.3 and test methodology in Appendix F.


Rubber Holder vs Plastic Holder for evacuated tube end
Plastic
Rubber
I noticed this at a recent trade show. I do agree the plastic of the hill system will last longer. Though it's not worth the significant cost difference. – You could even buy the boots from Hills and use them with Apricus!

Apricus uses HTV Silicone Rubber because it is FAR SUPERIOR to any plastic in terms of UV resistance.  It is a more expensive material choice than plastic, almost double the cost in fact.   I would be interested to see a third party report showing that the plastic used by Hills will last the equivalent of 10 years UV exposure without significant loss of structural strength and function

Flow Rate Limiter
Supplied
Not Supplied
As discussed with a representative from Energymatters hills use a flow rate limiter where as Apricus do not. The rep. indicated the limiter was an important part of the system to make sure that the full efficiency was obtained from the collector. This didn't sit well with me. Why when you have a pump moving water around would you want to slow it down? This puts pressure on the pump and makes it more likely to fail. Further investigation indicates it is due to the manifold design. The hills manifold is designed to hold 1.7l of water at a time, the apricus only 0.7l (30 tubes). Hence Hills needs the flow limiter as there's more water to heat at any time. Apricus on the other hand is putting the same heat into less water, hence don't need the limiter.

1. Until just the last couple of week the flow meter were NOT watermarked hence Apricus has not been allowing their use as we adhere strictly to the Australia Standards.   Now they are finally certified Apricus is investigating making them a standard part of the system.
2. It should not be used to SLOW the water but rather to allow the actual flow rate to be observed and if too slow a faster speed on the pump can be chosen (if using a 3 speed pump), Apricus would not suggest restricting the flow rate by more than 25% otherwise it is effectively wasting electricity by artificially increasing the head pressure of the solar loop and forcing the pump to run longer each day.


Circulating Pump
?
Bianco three speed pump
Both pumps have a 1 year warranty. The Apricus pump is stainless steel, the Hills pump is unknown.

The Apricus pump is a brass body pump, 3 speed.   The Hills would also be brass or bronze but I think single speed.  I don't know of anybody using a SS body pump in the market.


Tank Choice
Stainless Steel
Stainless Steel or Glass Lined
As from: http://www.ata.org.au/forums/topic/apricus-or-hills-evacuated-tube-solar-hw-system

"3. The tanks used in the market by Apricus are Everlast (stainless steel) or Aquamax.. Hills use Everlast tanks too. They are both made in Australia.

Stainless steel is a quality choice but more expensive. It is not suitable for all areas those as certain type of water, particularly bore, will quickly corrode stainless steel. The warranty policy of Everlast provides details of that.

Vitreous enamel (aka glass lined) tanks don't generally last as long as SS tanks as they are protected by a sacrificial magnesium anode which corrodes instead of the steel. The problem is that hardly anybody actually replaces the anode, which you should do once every 3-4 years (depending on water quality). If you DO replace the anode the tank could last 10+ years."
Since the most likly point of failure in an evacuated tube system is the Heat Exchanger/Manifold the Apricus system does sound more promising.  This ironically is the one component that Hills don't seem to trust as much as Apricus. Clearly indicated by the 5 year difference in warranty.

Donations keep this site alive